Feel like your in the clouds anywhere, anytime ☁️
Perfect for people who love to relax !
Whether you're camping, hanging out at the beach with your pals, visiting a park, travelling, or doing anything else. The inflatable air lounger you need is here! You can bring the cosy air sofa with you to outdoor events, hiking trips, hikes, and any other outdoor experience so you can get some much-needed rest. It is very simple to inflate and highly sturdy. To make a life-size lounge seat, simply swing the lightweight bag to fill it with air. Simply deflate, stow, and leave after you've finished relaxing.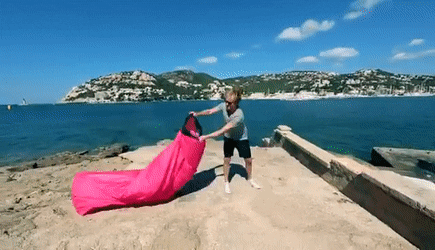 This air couch of the highest calibre was built to last! You can use the air sofa on any surface and terrain, from gravel to sand, because it is composed of extremely durable high quality rip-stop polyester and nylon fabric! The camping bed is entirely waterproof for top performance and won't let any air out during the night so you can sleep soundly. For enjoyable times at the beach and pool, the air mattress can even float.