COMFORTABLE FURNITURE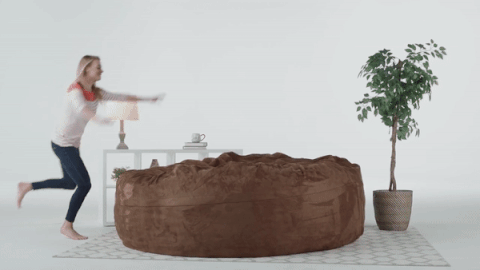 The perfect modern home accessory to add a touch of fun to your living room, bedroom, or garden area. The bean bag chair cover is a great size for both teens and adults. It is the perfect ideal furniture for sitting, napping, and lounging. The bean bag chair cover can also be used as a storage bag for your children's stuffed toys, which makes your room tidy.
FUN FOR EVERYONE
Add some fun to your basement hangout, dorm room, or bedroom with this super comfy bean bag chair! This bean bag is ideal for kids, teenagers, college students, and stressed-out adults. Use it while watching your favorite movies, tv shows, or while playing your favorite game.
OVERSIZED LOUNGER
This bean bag is the ideal bean bag sofa for snuggles and cuddles, whether that's with your special someone, dog, or favorite blanket. The bean bag measures 60in x 60in x 34in and is just the right size for relaxing in any room: large enough to watch a movie with your best friends, but not so big that it takes over a small room.
SHREDDED MEMORY FOAM
Bounce back with comfort! Each bean bag chair is stuffed with a shredded, soft, memory foam blend that is highly durable so you can flop and fall on it all you want and it will never lose its shape.
COMFY FURNITURE COVER
Covered in soft microfibre material, this bean bag offers ultimate comfort and unmatched functionality. The removable cover can be machine washed and is resistant to stains, and discoloration so your new favorite lounger always looks and feels brand new. Every bean bag has double-stitched seams for extra strength and extended use.
SIZE & FILLING
Collapse into a seat that loves you back and forms to fit your body with space for a whole family, share with a friend, or spread out to really relax. So, the cover comes with conventional shredded foams.
COMFORTABLE FABRICS
This bean bag cover is made of soft PV fur fabric, comfortable and breathable.
The lid is soft and feels good to the touch.
You can easily remove the lid for cleaning, just wash the lid with cold water.
It is very safe to clean with a washing machine and dryer, and it is very convenient to use.
BEAN BAG CHAIR COVER SIZE:
150CM*75CM - When lying flat, it can bear 200-300kg; Can accommodate 2-3 people.
SPECIFICATIONS:
Fabric: Made of high-quality fur
Fabric Construction: 80gsm